Nanoil Castor Oil: Add Natural Oil to Your Beauty Tool Kit!
Have you ever considered adding a natural oil to your daily beauty routine? Maybe you're searching for organic cosmetics that really work? Trust the power of Nanoil Castor Oil – unrefined castor bean oil, vegan-friendly! See what it does and what makes it excel…
Nanoil – expert for natural cosmetics
Some people don't realize the great benefits of using vegetable oil, extract or flower water. Nanoil is a manufacturer of organic cosmetics – simple and tested formulas with the highest-quality ingredients. The brand makes products that sell out all over the world. With Nanoil, you can enjoy nature-inspired beauty routines producing amazing effects. Oils from the Nanoil's range are formulated without synthetics, paraffin, silicones, SLS or PEGs. They're extremely popular among vegans, vegetarians, allergy sufferers, and all those with sensitive skin or fragile hair. Nanoil Castor Oil is pure essence of the most beneficial ingredients found in castor beans. The exceptional, exotic plant is used for extraction of the oil. What's interesting, the ready-to-use castor oil is similar to human keratin in structure. No other oil can boast such a property!
What makes it stand out?
It is a 100 percent natural, vegan and tested formula. Nanoil is rated for organic cosmetics whose top quality is confirmed by the ECOCERT mark.
It has delicate texture, a neutral aroma, and a simple formula.
It comes in a comfortable, glass bottle with a dropper for precise application.
It is multi-purpose.
It goes well with all skin types and hair porosities.
It is cruelty-free.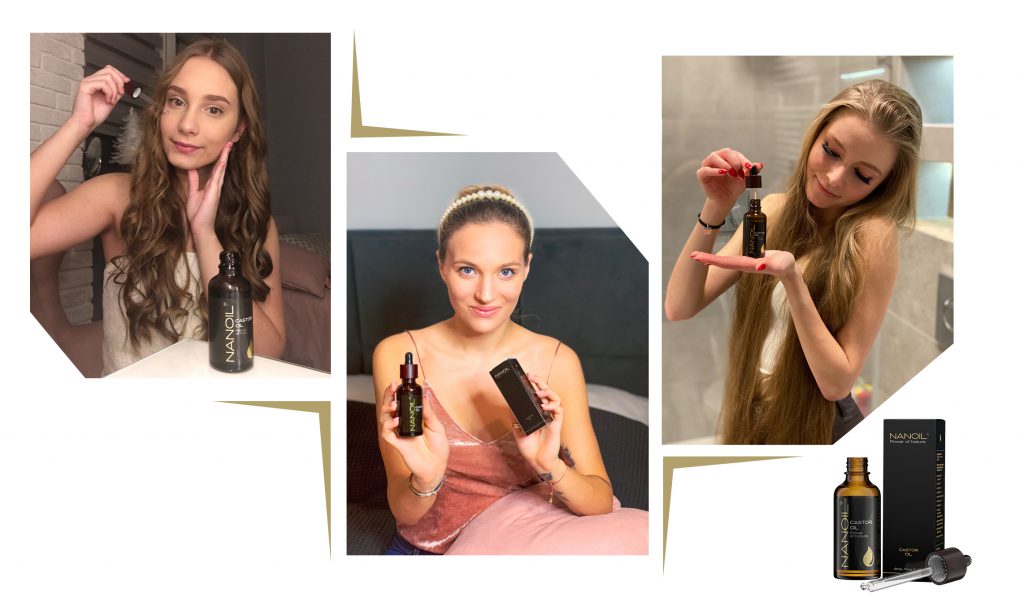 Nanoil Castor Oil – a beauty oil that's a beauty freaks' staple
By looking at thousands of rave reviews, we know that Nanoil Castor Oil is a popular pick among fans of natural beauty solutions. You're not sure if oils are good for you? Nanoil Castor Oil isn't another thick and heavy castor oil smelling bad. Thanks to the unbelievably light texture, it's comfortable to use on skin, hair and nails, and makes a great addition to ready-made beauty products. Feel free to mix it with other products, add it to fave cosmetics and create DIY treatments that are just right for you.
How to use Nanoil Castor Oil? 
it's a brilliant fix for extremely dry skin or hair
it will keep your hair ends safe while heat-styling
it will soothe the skin after shaving or sunbathing
it is a great serum for brows, lashes, nails and under-eye area
it makes a wonderful booster for face creams, masks, soaps, hair conditioners and shampoos
it is an excellent oil for body massage
it is the best for hair oiling and scalp oil treatment
it is a fantastic oil to remove make-up and clear the face
it will help you reduce acne
it will help you get rid of cellulite, scars and stretch marks
Ideas for using Nanoil Castor Oil in your beauty routine
DAY
First, cleanse your facial skin using a mild cleansing gel without SLS, silicones and irritative agents. Once the face is clean, spray it with flower water or use a toner. Next, use the dropper to dab 2 or 3 drops of Nanoil castor oil and gently pat it on. If your skin is extremely dry, then you can add a drop to your day moisturizer too. Also, choose skincare products that have SPF to prevent skin damage from the sun.
In hair care routine, massage 3 or 4 drops of Nanoil into hair tips to protect them from thermal damage.
NIGHT
Remove your make-up: use a micellar water or oil-based mixture. Mix Nanoil Castor Oil with favorite oils and remove make-up massaging the blend into the face and using circular motions. Use a cleanser gel to remove the oil residue.
Dry your face and use a flower water or face toner, and apply Nanoil Castor Oil which is a great alternative to expensive, anti-wrinkle serums for night use. Don't skip the brow or lip area. Apply your night cream.
Smooth a spoon of Nanoil Castor Oil across the lengths and massage it into the scalp to nourish it. Comb through the strands, pull them into a bun and put on a shower cap to keep the bed sheets clean. In the morning, wash the oil out using the CWC method (condition-wash-condition).
Enter the official website – nanoil.us