Mission? Beautiful hair in 30 days with Nanoil hair oil
It wouldn't have been invented, if it wasn't for you.
Your hair is the meaning of its existence.
The care of every strand is a real challenge.
It has been created for this purpose.
The sleek, gloss, black glass bottle hides what is most precious: natural substances, combined in synergistic harmony, form the elixir of beauty, enchant with the careful selection of ingredients, tailored to each of the three types of hair.
NANOIL HAIR OIL
PERFECTION IN EVERY DETAIL
If anyone ever told you that there is no hope for your damaged or overburdened and unsightly, troublesome hair … do not listen to them.
Accept the challenge.
Take up the glove and open up to beauty.
AIM: BEAUTIFUL, HEALTHY HAIR
TIME: 30 DAYS
SECRET WEAPON: NANOIL HAIR OIL 
Choosing oil Nanoil as your ally, you can remain calm, not only when it comes to the results, but also about how and with what they will be achieved.
Nanoil is a hair product, which is devoid of parabens and silicones – safe for hair, gentle to scalp, and ruthless to destruction and any anomalies that may happen with hair.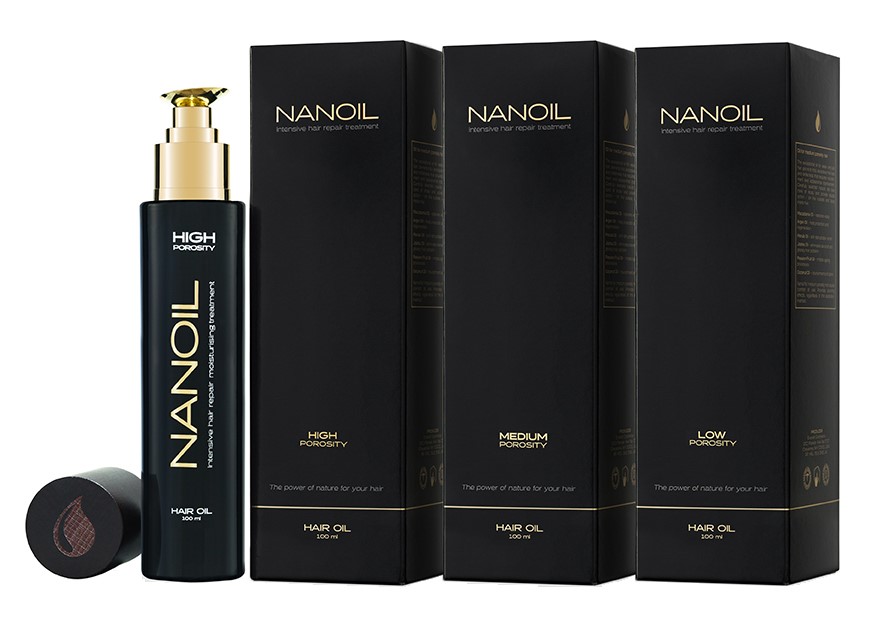 Nanoil approached the topic of hair care and regeneration really professionally. It found that one version of the oil is not enough to provide proper care for all types of hair. Therefore, there are three versions of Nanoil, each suitable for a different type of hair (i.e. for different porosity).
What is the difference between all 3 Nanoil versions?
The difference is that, although each version is based on natural oils, they all vary.
This is because natural oils have different concentrations of fatty acids and thus different size particles of which they are made. The size of these molecules fits into a specific porosity of hair, because the porosity is nothing else than the degree of how high the scales are raised. The larger the holes in the cuticle layer, the larger particles are required. It also means that hair is (unfortunately) more damaged.
Each type of hair looks differently and requires various substances for the care and recovery. The condition, appearance and needs of strands are mainly determined by the porosity. Improperly chosen care can only worsen the condition.
LOW POROSITY HAIR is thick and stiff, it does not damaged and its scales are tightly bound. Unfortunately, this type of hair is very difficult ti manages when it comes to styling: it is hard to create nice hairdos, increase volume and lightweight. Such strands are usually flat and oily. Excessive sebum secretion can weaken bulbs which in consequence increases hair loss.
Nanoil for low porosity hair immediately improves its appearance, softens, gives shine and lightness (does not overloads hair during application, as it is quickly absorbed into its interior). In less than 30 days, it will completely transform not only the appearance and condition of hair, but also balance the processes in the scalp.
This version of Nanoil contains a number of high-quality, cold-pressed oils of tiny, penetrating particles, which are designed for low porosity hair. The composition of the product includes: argan oil, cedar oil, coconut oil, castor oil, shea butter, babassu oil, maracuja oil, monoi oil and cupuaçu butter.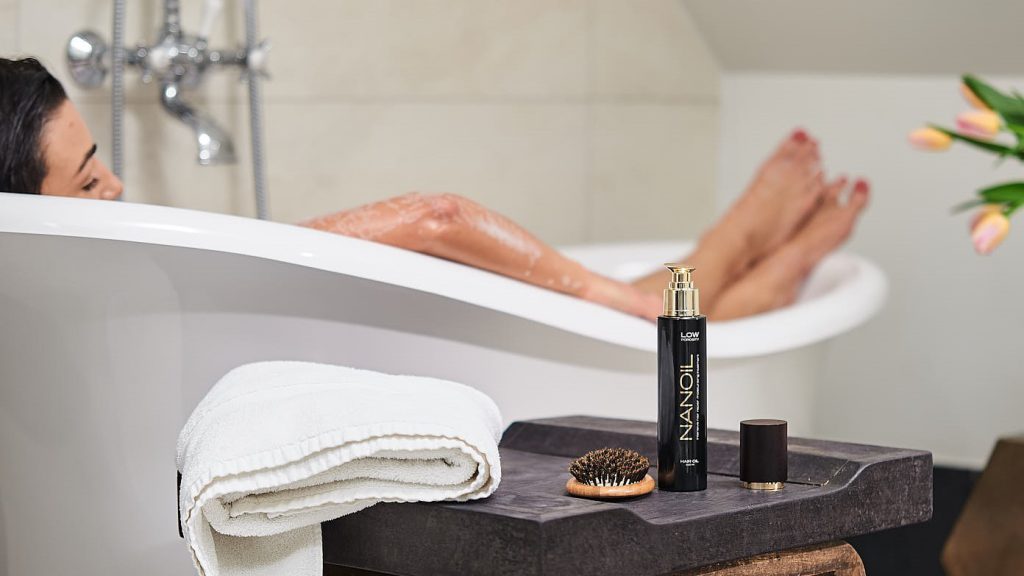 MEDIUM POROSITY HAIR is moderately damaged and, unfortunately, not thick and strong, but not yet destroyed, and dehydrated. It is the kind of hair that most people have – neither thick nor thin, neither healthy nor damaged. Such hair type causes trouble when it comes to care, because it is very easy to damage the ends, while the scalp may start to dry or become overly oily. Thus strands may begin to fall in excess, become frizzy and static.
Nanoil for medium porosity hair does not have an easy task: it must balance the level of sebum secretion and align the water and lipid metabolism in the scalp, to strengthen the roots and protect hair from damage and loss of density, volume, and at the same time enhance the glow and give your hair resilience and softness. Nanoil for medium porosity hair includes: macadamia oil, argan oil, marula oil, jojoba oil, maracuja oil, coconut oil. They correspond with the beauty of medium porosity hair. Its semi-penetrating molecules nourish, rejuvenate and secure wisps.
Just about 30 days is enough for Nanoil to show its power: hair stops falling out, becomes thicker, and the wisps shine with beauty and health.
HIGH POROSITY HAIR – has gaps and holes in the cuticle. It is very hard to moisten – water evaporates immediately, as well as other precious substances… unless they have sufficiently large particles such as in the case of natural oils with non-penetrating properties. They are able to not only protect your hair from dehydrating and damage, but also repair the defects on the surface and rebuild the broken bonds in its interior.
Within 30 days, Nanoil for high porosity hair will provide an in-depth regeneration, and their appearance will improve after the first application. In its composition we will find: almond oil, argan oil, evening primrose oil, avocado oil, marakuja oil and cottonseed oil.
You must know that all 3 Nanoil hair oils are also equipped with a (fairly exclusive and unique) secret weapon that will guarantee the success of your treatment. These are two innovative components (Kerastim and baicapil), which turn out to be revolutionary when it comes to the fight against hair loss, thinning hair and growth inhibition.
Kerastim and baicapil act directly on the hair roots, regenerate them and contribute to their growth. Thanks to the intense action of these ingredients, even those bulbs that were previously inactive – are beginning to work and grow new hair. This makes the hairline thicker, and we can look forward to volume, which so far was only a dream.
AIM: BEAUTIFUL, HEALTHY HAIR
MISSION: COMPLETE
ROGER THAT, NANOIL