Top 5 Thermal Sprays That Will Shield Your Hair Against Heat Damage
A shampoo and conditioner won't keep your hair strong if you heat style it almost every day. Although you're probably well-aware of the damage that high temperatures do to the strands, somehow you can't stop yourself from reaching for a flat iron before leaving home.
Well, the good news is that you don't have to change your hair styling habits, as long as you protect the strands against the ravages of heat styling. In case you're not sure what makes a good quality thermal protector, we'll be more than happy to assist you while shopping for it. In a moment we will show you only the best products, just to narrow down the wide choice that we all have.
First things first: heat protection is absolutely essential if you use hot tools regularly—and here's why. High temperatures cause hair cuticles to rise and damage inner hair structures. Both the moisture and keratin—that are inside the shaft—are directly affected by the heat. The former evaporates through the gaps that appeared due to risen cuticles, whereas the latter changes its shape and often breaks apart. Consequently, hair is turning brittle, loses shine and starts splitting.
Features of a good quality thermal spray
A good quality hair styling cosmetic is expected to prevent the side effects of heat styling. Its key task is to shield the hair against scorching temperatures. What's interesting, some heat protectants contain nutrients, and therefore improve the appearance of hair. This basically means that such products can leave your hair shinier, moisturized, conditioned and simply better-looking.
While searching for the right thermal spray, it's advised to check whether its formula has zero parabens and zero silicones. Finding a product that contains no alcohol will also be advantageous for you because this substance is known for raising hair cuticles, leading—as you already know it—to dehydration.
Last but not least—the formula. If you care for speedy application, go for spray heat protectants. When you get yourself a liquid formula closed in a bottle with an atomizer, it allows you to put the product on the hair in a few seconds. You don't need to spread it on the palms first, so you don't need to wash it later. In this way you also don't waste a drop of the product, which is another thing worth realizing.
Top 5 Thermal Sprays That Will Shield Your Hair Against Heat Damage
Once again Nanoil showed that they know what they do! Launching their latest offering—Nanoil Heat Protectant Spray—they give us another do-it-all beauty product. The combination of precious ingredients and hair-manageability-improving properties helped Nanoil thermal spray win top places in consumer review rankings. 
The lightweight formula satisfies all heat styling enthusiasts, as well as those who look for strong UV protection. There is no hair type that Nanoil Heat Protectant Spray wouldn't work on—it delivers promised results every time. Silk proteins make arranging hairdos easier because they smooth out the outermost hair layer. Polyquaternium-46 and amodimethicone detangle hair and help you control frizz better. They work together to improve moisture in your strands.
Nanoil Heat Protectant Spray gives your style a natural finish so you don't need to worry about losing volume. In order to provide your strands with strong heat protection, you need to apply the product after shampooing. Only this little is needed to create fabulous blowouts without striping your hair off moisture.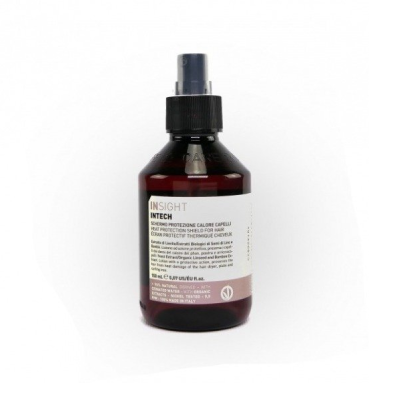 2. InSight Intech Heat Protection Shield
Not so popular, yet really impressive heat protectant that you can mainly find in online drugstores. As the name suggests, InSight Intech Heat Protection Shield is designed to isolate the hair from high temperatures that all hot styling tools produce.
The shield the product creates is weightless and invisible, yet it's good at protecting the keratin fibers inside the hair from being broken. It also blocks moisture from escaping the strands. After reading the list of ingredients, you can see that InSight Intech Heat Protection Shield isn't just another heat protectant—it contains many substances that are known for repairing damage and reviving hair, making it elastic and glossy.
The composition is made up of yeast extract, organic linseed extract and bamboo extract. It's worth realizing that InSight protectant also helps create desired and lasting hairstyles. Although it's able to tame unruly wisps in a second, it doesn't mean that it weighs hair down. The brand doesn't indicate which hair type is their Heat Protection Shield mainly destined for.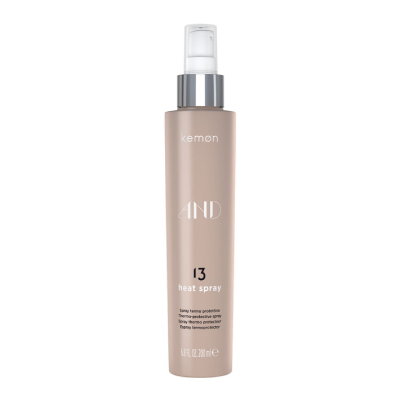 3. Kemon AND 13 Heat Protection Spray
The spray's main mission is to trap moisture inside the strands. Being "qualified" to handle this task makes Kemon AND 13 Heat Protection Spray a good choice, especially before blow drying and straightening. Here is another lightweight heat protectant, so it serves all hair types, even when delicate and fine.
You can use it either on towel-dried or dry hair, according to your preferences and the hairstyle you wish to create. When it comes to the ingredients, Kemon AND 13 Heat Protection Spray contains ferulic acid. It's known for increasing hair's resistance to external aggressors, delivering nutrients and working as a UV protection.
When used on a regular basis, this heat protection spray makes hair softer, shinier and visibly more elastic. And the best bit is that it delivers all of the promised effects, leaving no residue on the style. The only drawback that most users tend to mention is the price. They wish Kemon AND 13 Heat Protection Spray was a bit cheaper.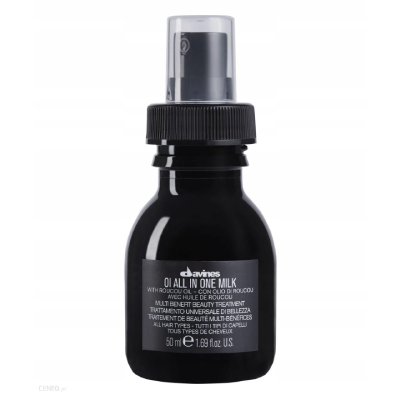 4. Davines OI All in One Milk
Looking for a heat protectant that tames unruly tresses, detangles the most knotted hair and creates frizz protection? Seek no further because we truly believe that this black-bottle thermal spray may be the product your hair was asking for.
Able to condition and smooth out all hair types, Davines OI All in One Milk turns unmanageable wisps into easy-to-style strands. Having a slightly thicker formula—it's not dense, though—it boosts shine, leaves hair pleasantly soft and smooth. This is basically why it's able to free you from frizz and tangles, no matter if you comb dry or wet hair after washing.
Wondering what is inside the spray bottle? For example pro-vitamin B5 that deeply moisturizes and nourishes, and roucou oil that repairs damage and slows down aging. Using this thermal protection spray speeds up drying, reducing the time you need to spend on creating a cute and long-lasting blowout.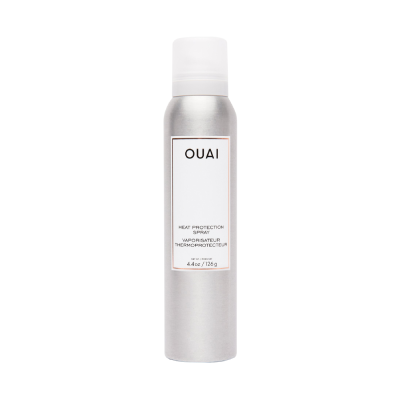 5. OUAI Heat Protection Spray
It can't be denied, this product resembles more of a deodorant than the real heat protection spray for hair. However, don't let the appearances deceive you because inside this aluminum bottle there is a good quality heat protectant, able to shield all hair types against the negative effects of heat styling.
Although OUAI Heat Protection Spray is marketed mostly for hair prone to brittleness and splitting, it doesn't mean that it's useless when applied to normal hair. Interestingly, this product is said to extend the life of curls, waves and even keratin treatment!
As other products included in that list, OUAI Heat Protection Spray delivers high heat damage protection and has a lightweight formula that doesn't drag hair down—that's super important, isn't it? Furthermore, it makes hair easily manageable and locks a style in place for long hours. No matter if you apply the spray to damp or dry hair, it will always get you the desired results.