Nanoil Argan Oil – perfect for your daily skin care routine
Nanoil Argan Oil – perfect for your daily skin care routine
Argan oil, the liquid gold of Morocco, is extracted from the long-living Argan trees. It has been popular for years and is the most valued of all natural oils. The cosmetic market offers us a lot of choices, but not every argan oil retains its properties. The Nanoil brand has created argan oil, which works well in skin and hair care of all types. Find out the reasons why thousands of women around the world love it so much.
---
Nanoil Argan Oil (INCI: Argania Spinosa Kernel Oil) has a golden colour and a delicate, nutty smell. It's 50 ml of pure cold-pressed and unrefined argan oil. The brand specializes in natural, organic eco-friendly cosmetics. Their vegan and not tested on animals natural oils are getting more and more popular among consumers.
Choose the 100% organic Nanoil Argan Oil to make sure that:
it doesn't contain silicones, synthetic dyes, perfumes, or parabens,
it's unrefined, cold-pressed, and natural,
it's safe for sensitive, allergic, and couperose skin,
it has a pure and organic composition – 100% Argania Spinosa Kernel Oil,
its highest quality is certified by Ecocert,
it has a light texture, a handy dropper, and it absorbs quickly.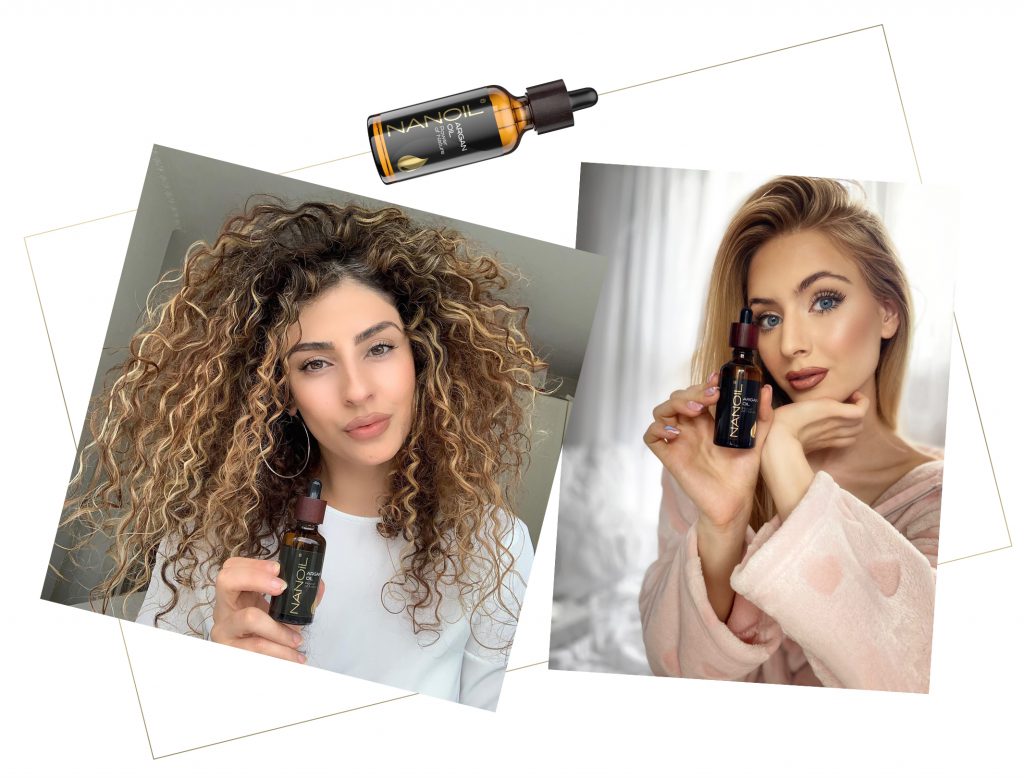 Nanoil Argan Oil – for face, body, and hair care
Nanoil Argan Oil is the highest quality argan oil, which contains precious nutrients like vitamins A and E, omega-3, -6 and -9 acids, polyphenols, squalene, carotenoids, tocopherols, and butyrospermol.
The liquid gold of Morocco can be used in various ways:
as a booster in creams, shampoos, conditioners, masks, and other cosmetics,
as a natural product for face, body, and hair care,
as a replacement for a face serum,
for hair and scalp oil treatment,
as an elixir of youth, which delays skin ageing,
as a firming oil to get rid of cellulite and stretch marks,
to moisturize and nourish dry skin,
as protection against UVA/UVB rays,
as a strengthening conditioner for nails and cuticles,
as a regenerative treatment for cracked heels and dry hands.

The producer ensures all their organic, natural, cold-pressed oils are unrefined. It's 100% organic, multi-purpose, and versatile. It is confirmed by many reviews of happy customers and professionals from the beauty industry.
The oil is enclosed in a 50 ml amber glass bottle with a dropper and a wooden detail to make sure it will stay with you for a long time. It is extremely efficient and affordable, which is why it quickly became a favourite of Internet users. It's suitable for hair of any porosity, it protects it from the sun and mechanical damage, and prevents the ends from splitting.
It's a multi-puropose product with properties that can help you get rid of cellulite and stretch marks and boost firmness and skin radiance for a long time. It works as an effective brow and lash serum to promote hair growth and make the hair darker, denser, and naturally shiny.
This top-class natural argan oil is awaiting you at nanoil.us.
---