List of 4 Top-Rated Argan Oils Selected for You
For dry and damaged hair, to strengthen brittle nails, to condition all skin types. Argan oil is a natural cosmetic vegetable oil that is absolutely worth having close at hand. Which one to choose? Here are the most popular and hottest offerings for you.
Incorporating pure argan oil into regular skin and hair treatments and upgrading daily beauty rituals with it makes a very good idea. Its potential was discovered a few centuries ago, when Moroccan people began extracting this golden oil from argania kernels to later treat their bodies and hair with it. Today, Morocco is the place of origin of the genuine argan oil rich in:
EFAs, also known as essential fatty acids.
vitamins, such as a high concentration of vitamin E.
minerals and plant sterols.
UV filters, which are natural screens delivering sun protection.
If you are looking for the finest product, try only cold-pressed and unrefined argan oil. Why is that? Because only such product brims with essential nutrients, thus it is efficacious.
Applications of argan oil
It gets even better after realizing that there are several ways in which argan oil can be used to help you look better. For example, it serves well as a nail, hair, skin and even lash conditioner, which is why you can use it as a replacement for dozens of regular beauty products that you use daily. Thanks to being natural, argan oil can be used as:
a makeup remover and to cleanse the skin.
a nourishing and reviving massage oil.
a nail conditioner.
a natural lash and brow enhancer.
an oil face serum (also prior to makeup).
How does argan oil work?
It takes no more than just one use of pure argan oil to understand what makes it such a marvelous beauty product. The benefits it creates convince the sceptics and prove them wrong.
This is a natural emollient, meaning that argan oil maintains hydration and prevents dryness of hair and skin. Additionally, argan oil supplies strands and skin with nutrients, and therefore they become repaired and strengthened pretty fast. Also, it deals with excessive hair loss, brittle nails and skin irritations. Containing natural UV filters, argan oil does not only provide sun protection but also it shields the skin and hair from free radicals. When used on a regular basis, argan oil restores youthful appearance and enhances natural beauty. And you can enjoy this by using just one cosmetic vegetable oil – genuine argan oil.
Top argan oils
Before picking argan oil, it is worth realizing that the above-mentioned benefits can be achieved only with the finest products. The ones whose high quality is confirmed by certifications given only to the oils extracted in a traditional way and whose compositions are free from any artificial additives e.g. silicones, fragrances or parabens.
Here are the latest offerings that you should take into consideration while shopping for the best argan oils!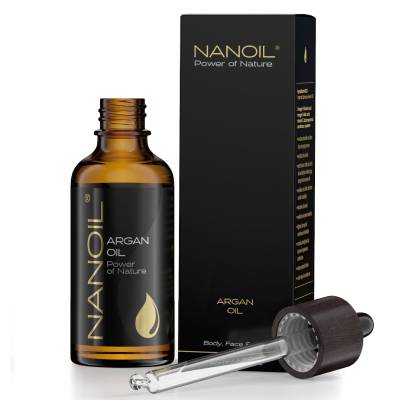 NANOIL, ARGAN OIL
Size: 50 ml
Ingredients: 100% Argania Spinosa Kernel Oil
The most popular among all top-rated argan oils is this one, offered by Nanoil. Cold-pressed, unrefined, organic and certified with the Ecocert quality mark, originating straight from Morocco. Destined for body, face and hair care. Being a 100% natural product, Nanoil Argan Oil can be used in a couple of ways: solo, as a base ingredient for creating home beauty products or as a commercial beauty product booster used for upgrading and giving them a new set of properties. Nanoil Argan Oil comes in an elegant dark glass bottle with an easy-to-use dropper. It is a really lightweight oil that absorbs into hair and skin immediately without leaving any greasy film. Not only does it nourish, moisturize and regenerate, but also it provides round-the-clock protection and prevents premature signs of aging, e.g. wrinkles.
More on: nanoil.us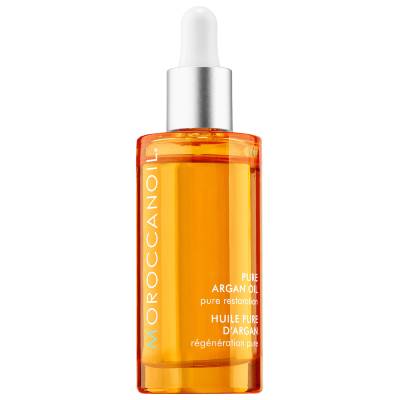 MOROCCANOIL, ARGAN OIL
Size: 50 ml
Ingredients: 100% Argania Spinosa Kernel Oil
Equally popular, yet definitely more expensive, is this natural argan oil launched by Moroccanoil. Apart from their popular argan-oil-based beauty products, Moroccanoil also offers Pure Argan Oil – argan oil that is completely free from any additives. It can be used for body, face and hair care, as well as a constituent of DIY beauty products. This oil is said to be good at moisturizing, nourishing and making skin radiant, and when it comes to the hair benefits, it also refines hair's texture. Interestingly, this product looks slightly different than most of Moroccanoil offerings. This time, this brand launched Pure Argan Oil in a phial enveloped with a transparent label. As an applicator, you can use a dropper that comes with the bottle.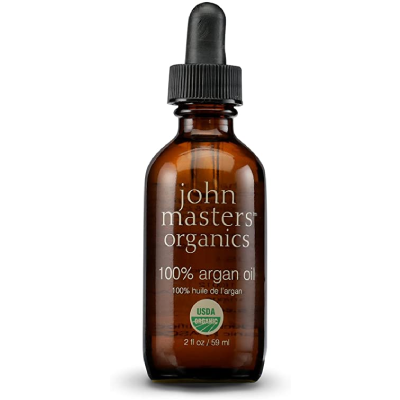 JOHN MASTERS ORGANICS, ARGAN OIL
Size: 59 ml
Ingredients: 100% Argania Spinosa Kernel Oil
Another offering popular among all the natural argan oils is this product launched by John Masters Organics. You do not need much of this inauspicious oil per application, to see the effects. Get a small amount of the oil from the dark glass, massage it into the hair or skin and let it absorb. The composition does not contain any unnecessary additives, but only 100% organic and certified argan oil. This product can be used on hair, body and face, e.g. before applying makeup. John Masters Organic Argan Oil is a good solution for people with dry and mature skin, unmanageable hair, fine lines and pigmentation spots. Unfortunately, it is one of the most expensive argan oils currently available on the market.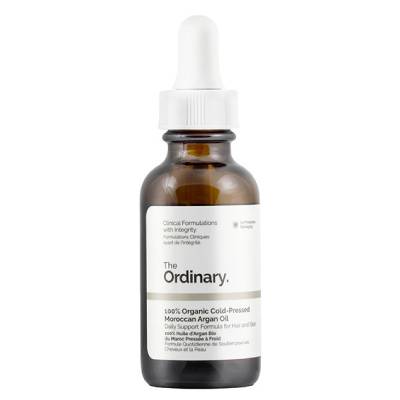 THE ORDINARY, ARGAN OIL
Size: 30 ml
Ingredients: 100% Argania Spinosa Kernel Oil
Argan oil from The Ordinary is another all-natural product that should not be missed. It seems to be one of the most favorite products, especially among the women who have used The Ordinary cosmetics before. It is cold-pressed, unrefined, organic and imported directly from Morocco. The richness of oleic acid and linoleic acid makes this oil perfectly suitable for the face to get deeply moisturized and repaired skin. However, this is not the only possible use of The Ordinary argan oil – it also works well in hair care, especially when applied to weak strands that require hydration. With every use, argan oil from The Ordinary provides regeneration, nourishment and hydration.